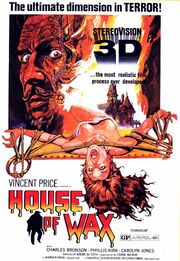 Professor Henry Jarrod (Vincent Price) is a devoted wax figure sculptor with a museum in 1910s New York. When his financial partner Matthew Burke (Roy Roberts) demands more sensational exhibits to increase profits, Jarrod refuses. In retaliation, Burke deliberately sets the museum on fire, intending to claim the insurance money. He fights off Jarrod in the process, and splashes kerosene over his body, leaving him to die in the fire. Miraculously, Jarrod survives with severe injuries, and builds a new House of Wax with help from threatening deaf-mute sculptor, Igor (Charles Bronson).
The museum's popular "Chamber of Horrors" showcases both notable crimes and more recent ones, including the murder of Jarrod's former business partner by a cloaked, disfigured killer. Burke's fiancée, Cathy Gray (Carolyn Jones) is also killed. But when Cathy's friend, Sue Allen (Phyllis Kirk), visits the museum, she makes a discovery that leads to the horrifying truth behind the House of Wax - that all of the waxworks are the wax-coated bodies of Jarrod's victims. Allen herself almost becomes an exhibit, but in the end it is the disfigured Jarrod who falls into the waxworks.&nbsp
Community content is available under
CC-BY-SA
unless otherwise noted.