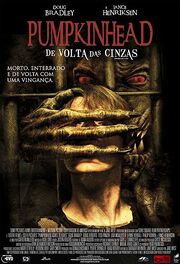 &nbsp
Pumpkinhead: Ashes to Ashes plotline follows more closely to the first one, with townspeople angered over the local mortician stealing and selling the organs of their loved ones and then dumping the corpses in a swamp, rather than cremating them. When the townspeople find out, they have the old witch Haggis summon Pumpkinhead through the mummified body of Ed Harley (played by Lance Henriksen, who reprises his role from the first film). Pumpkinhead then proceeds to go on his killing rampage murdering all those responsible for the desecration, while Doc Frasier (played by Hellraiser's Doug Bradley) hurries to murder those who summoned Pumpkinhead, which will effectively kill the demon in the process.
Community content is available under
CC-BY-SA
unless otherwise noted.