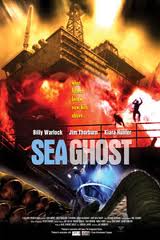 The Sea Ghost is a remote and secretive research station fashioned from a massive oil rig. A mysterious distress signal from a giant oil tanker off the Alaskan coast is received and a government team arrives to investigate. They find the ghost ship submerged in icy waters, completely empty. As the team searches for clues, one of the scientists is attacked by a mysterious organism. The other scientists try to escape, but the scourge is relentless.
Meanwhile, at the Sea Ghost, commander Sean Rodgers awaits the arrival of Dr. John Morgen. Rodgers briefs Morgen about the the oil tanker, which was carrying a prototype laser drill designed to go deep into the earth's crust. Everything seemed fine until the drill hit a soft, mysterious mass. The crew collected a sample to study. Four days later, all communication was lost. The team sent to investigate was destroyed. Morgen is heading the next team in. He sets out on his mission with a talented team. Once they reach the epicenter, all hell breaks loose. The team encounters a virulent creature bent on destroying any and all life. Morgen must defeat a power that could obliterate mankind &nbsp
Community content is available under
CC-BY-SA
unless otherwise noted.